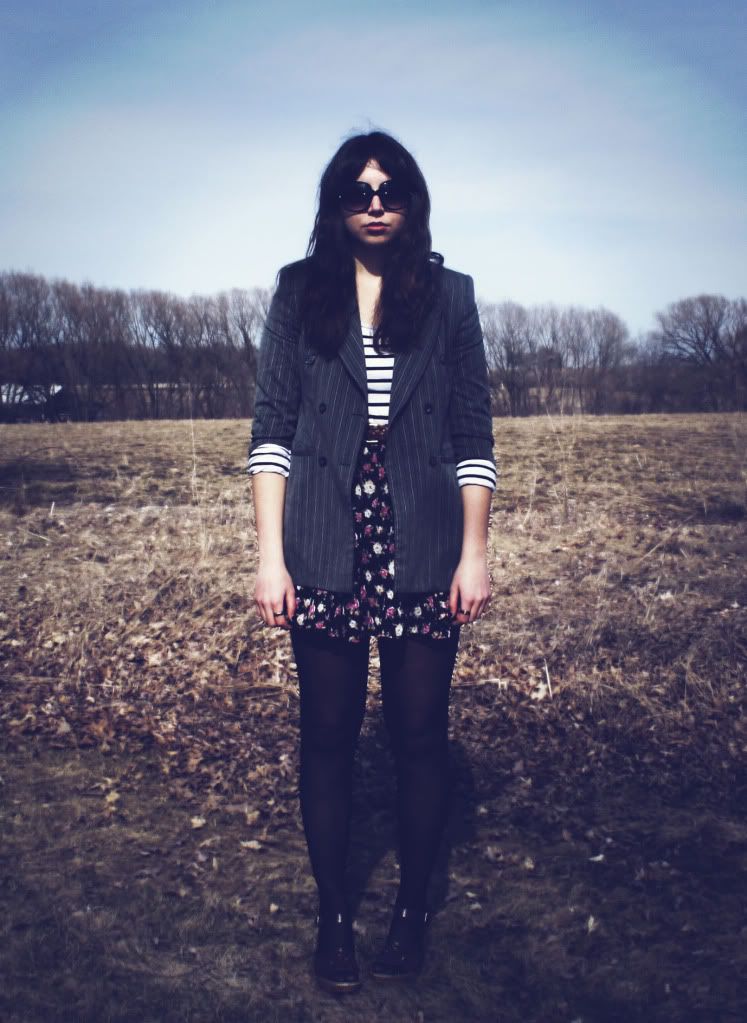 Blazer: Thrift $4, Shirt: Bluenotes $13, Skirt: Fairweathers: $15, Tights: Ardenes $3, Belt: Thrift $2, Shoes: Payless $13 Hello everybody!!!
I feel like a terrible blogger for almost going to two weeks without a post...yeesh not good. I have been trying to take outfit photos all week and they all were terrible, either to dark or light to use inspite all of my editing efforts. I bought this skirt on a recent shopping trip, there was a two for one sale (seriously love those) so i also got a cute black polka dot one!!! I was determined to save money so they were the only two things i purchased which was a bit depressing but i was proud of my cheapness :). I am quite happy to say spring has finally arrived here and it was down right warm when i took these pictures which was sooooo exciting. I love tights and all but i am looking foreward to the day when i don't have to wear them. My bangs have grown so fast and were way to long to be worn straight foreward so i tried a bit of different hairstyle here. I have to admit i like the full bangs and want to keep them for a while longer so i trimmed them up last night. I totally recommend watching videos on youtube on how to cut a fringe, they are seriously so helpful. I hope everyone had a wonderful week!!
P.S On my last post i was about asked my camera and software for photos, i have Canon Rebel XS which i love to pieces and i recently got Adobe photoshop for editing.