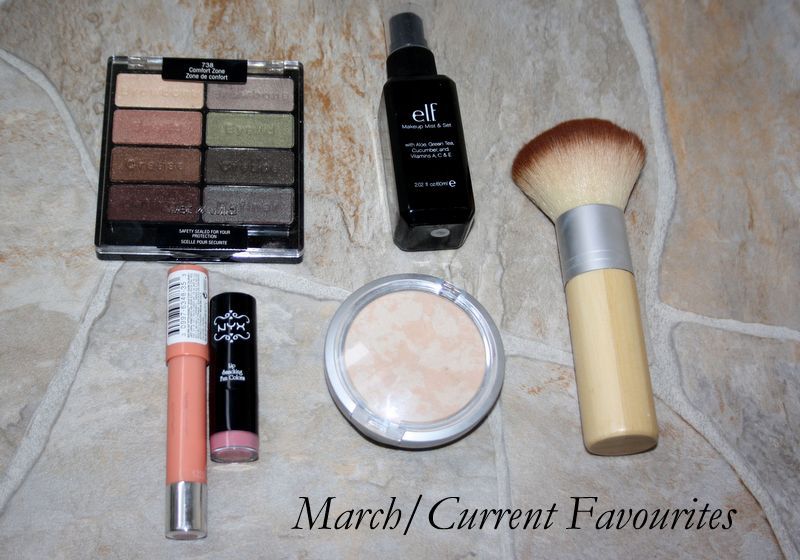 Here is a new type of post for me. I am absolutely obsessed with watching makeup videos on youtube and I love their monthly favourite videos since you get to discover new products with positive reviews!! These are some of the products I have been using lately that are definitely my favourites at the moment. I have been ridiculously sick all week so I didn't feel like taking any photos of myself so I hope everyone enjoys this post!!
Wet N Wild 8 Pan Palette- Comfort Zone
I am DEFINITELY going to review this soon, quite possibly in my next post with in depth photos because this palette is freaking awesome. I had seen so so many reviews on youtube and blogs about this and I could not for the life of me find it in stores anywhere. I was going to resort to buying it online when I looked in the Canadian Superstore near me and they had revamped their makeup section so I finally got my hands on it. I was super excited and as a bonus I payed only $4 for it which was about half the price of the palette online. I have been wearing it everyday and the colours are gorgeous!!
Physicians Formula Mineral Face Powder- Translucent Light
Now that I think about it I am definitely going to do a review on this powder as well. I bought this at a Zellers clearout sale where everything was 50% off so I only payed $10. Physicians Formula is pretty darn expensive in Canada, I am talking like twenty bucks for a powder. To me that is getting into the realm of high end makeup and I might as well spend the extra 5-10 dollars and get a Mac powder. But I bought this on sale and one of the makeup gurus I watch on Youtube
RheaEstelle
always raves about this product. I absolutely love this powder now, I have a considerable amount of redness from acne scars etc. and this does a great job of covering that. I often wear this powder just with my Hard Candy Glamoflage concealer (
review here
) instead of liquid foundation :).
Elf Mist And Set Spray
I got this a couple of months ago and it has definitely reached almost holy grail status with me. I like to use it everyday (if I can remember) since it sets my makeup so well but I absolutely always use it before going out at night. It does a great job of keeping everything in place and takes away any powdery look to my face. Some added bonus's are its $3 on the Elf website (score!) and it doesn't bother my hyper sensitive allergies so I will use this as long as I can get ahold of it.
Nyx Round Lipstick- Strawberry Milk/ Revlon Just Bitten Balm Stain- Charm
I have had the Nyx Strawberry lipstick for over a year after I bought it on eBay. Much to my huge disappointment I did not like the colour whatsoever since it was so pale on it made me look ill even at my lightest in the winter. I was playing around with my lipsticks the other day since I was thinking about doing a post on products I didn't like and this was at the top of my list but I started using it as a base for other lipsticks and it looked awesome!! The Nyx round lipsticks are very creamy so they were easy to mix with other colours. This duo is my personal favourite at the moment and I have been wearing it constantly.
EcoTools Bronzer Brush
This is absolutely my favourite brush at the moment, it so so soft. I use it to bronze up my face and set my foundation/concealer with my Rimmel Stay Matte Powder. I actually bought this on Ebay for about $5 from Hong Kong. I have alway wanted to try the Ecotools brushes but in stores here they are over ten bucks so I figured I would try to get one a bit cheaper. It came super fast in the mail but it was a little crunched in the package, so I washed it and it reformed nicely. I am really happy with the brush so I would recommend buying brushes online like that!! I need to catch up on blog comments now that I am feeling a bit better and I hope everyone is has a great day!!