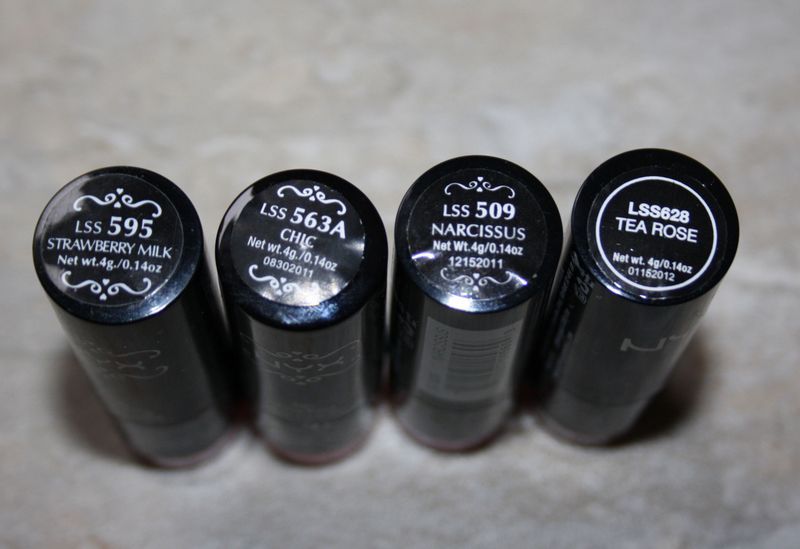 Nyx Round Lipsticks
Good morning everyone!!! I decided to wake up at six thirty this morning and couldn't get back to sleep so I figured would do a bog post. I recently dropped my lovely Canon DSLR camera on the floor and broke the lense (I may have cried a little after that) so I need to take it to a camera store to get fixed :(. I had taken these photos already so I could do one more post but I am quite upset. I have been shopping and I have some awesome bargains to show everyone and moneys more than a little tight (when is it not) so this did not happen at a good time, anyways enough of my moaning and onto the review!! I currently have four NYX Round Lipsticks and I love them. They are super creamy and decently pigmented, lipstick never seems to last to long on me so they have about the same longevity as all of my other lipsticks. I bought Narcissus and Strawberry Milk on ebay over a year ago so I dont really remember how much I payed for them but i recently purchased Chic and Tea Rose on Beautyjoint and they were about three/four dollars which is pretty awesome!!!! It is so bloody hard to find NYX products in Canada but I definitely want to try more of there products.
Cherry Culture
has a 40% off sale on all NYX products and I am trying so hard to resist placing a order.
Strawberry Milk, Narcissus, Chic, Tea Rose
I absolutely love Strawberry Milk, Chic and Tea Rose, they look amazing on the lips. Strawberry Milk is this incredibly pale pink which I didn't wear for about a year after I bought it since I thought it was a bit to pale for me but I discovered recently it is amazing for mixing other colours with to create the perfect pink shade for me. Chic is this really bright coral shade which I think will look amazing in the summer with a tan. Tea Rose is a deeper reddish colour which is actually a darker version of my natural lip colour. Narcissus is the only one the photos don't do justice for since it is almost a neon bright pink. It is the only one I have never worn even though I have tried mixing it with other colours, I still cannot get it to look nice on me. Overall I would definitely recommend trying the NYX round lipsticks but definitely research the colours and look at swatches first because I dont think I would have purchased Narcissus if I had!! Have a great day everyone :).
Top: Narcissus, Strawberry Mik
Bottom: Chic, Tea Rose