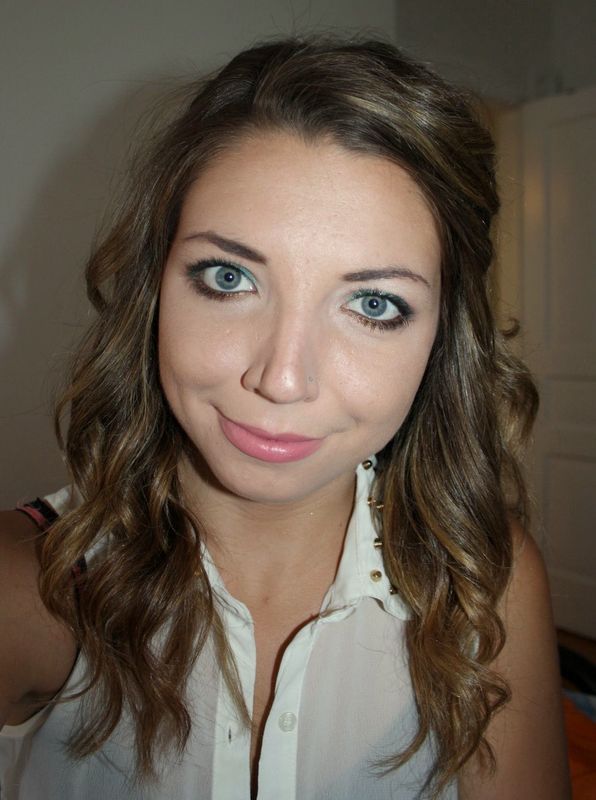 Face:
Revlon PhotoReady Foundation: Shell
Elf Acne Fighting Foundation: Buff (mixed together)
Essence Stay All Day Concealer (under eyes)
Revlon PhotoReady Concealer: light medium
Elf Studio Loose Powder: Translucent
Annabelle Perfect Bronzer: Sun Goddess
Wet N Wild Blush: Mellow Wine
Eyebrows:
Elf Eyebrow Kit: Medium
Elf Lash and Brow Gel
Eyes:
Elf Eyelid Primer
Jordana Single Eyeshadow: Heart of Gold
Wet N Wild Comfort Zone Palette (the two middle shades on the left)
Elf Mascara Primer
Elf Cream Eyeliner: Teal Tease
Elf Loose Pigment: Tropical Teal
Essence Long Lasting Eyeliner Pencil: Gold
Rimmel Great Lash Mascara
Maybelline Mega Plush Volume Express Mascara
Lips:
Elf Essential Lipstick Nostalgic
Wet N Wild Matte Lipstick: 905D
This is my absolute favourite eye look at the moment!! I am seriously so in love with bright blue/teal/seafoam green colours they just look so awesome and summery. Sorry for the lack of posts I have been having some rather large personal problems, I moved apartments and there has been issues. Anyways I need to get that all sorted but yesterday I was stoked to find my camera in some boxes and took some photos before I met my friend to go shopping downtown. I sent in a order to Elf a while back to get some things I had used up, so of course I ended up trying a few new things. The Loose Powder is fantastic, it doesn't make me break out and controls my oily skin fairly well. The Acne Fighting Foundation on the other hand was a disaster for me. My skin looks so good in these photos but it made me breakout all over my face after a couple hours, it had wonderful coverage though so I am quite disappointed it didn't work for me, bloody sensitive skin!! I have pictures of the outfit I wore yesterday as well but my photoshop has quit working so my personal tech support (the boyfriend lol) is working on a solution so hopefully those will be up soon!! Have a great day everyone :).